About Steppin Out Entertainment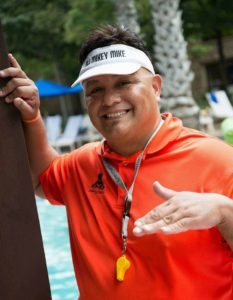 One of Southwest Texas most diverse entertainers, Mike Mireles is the CEO/Founder of Steppin Out Entertainment since 1989. A former professional film/stage actor, stuntman, professional dancer. He is a unique, intensely energetic performer who specializes in live events.
His diverse knowledge of music styles and mixing skills has allowed him to spin corporate events in Laredo, San Antonio, Austin, Dallas and Horseshoe Bay Texas.
He is always a crowd favorite at:  Downtown Aquarium, Kemah Boardwalk, Pleasure Pier Galveston, Palm Beach at Moody Gardens (Galveston), San Luis Hotel H20 Bar, and currently the resident poolside DJ at The Woodlands Conference Resort during the past five summer seasons.
ABOUT MIKE:
Started stage performing at 5 yrs with The Toledo Ballet Folklorico Group. Mike had won numerous street dance contests awards during High School at local dances then went on to win the 1982 Mr. Houston Flashdance competition sponsored by 104 KRBE Houston Radio. He has entertained thousands of live audiences for Six Flags Astroworld, Six Flag Over Texas employed by The Totally Fun Company-(Clearwater Florida) 1993-1995. In 1998 Mike gained National DJ industry attention when he was featured entertainer article inside Mobile Beat DJ Magazine in Jan 98.
He performed during the 1999 All-Star Mobile Beat DJ Conference Show along with his brother David demonstrating Latin line dancing at The Tropicana Hotel.
Mike was named 1998 GHAMMA DJ Member of the year among many other industry awards that year. His DJ musical talents, MC, skills, showmanship, energy, creativity and 27 yrs experience has garnered him to be the most sought after family DJ entertainers in the Southwest is extraordinary.
Mike Mireles through the years...
Mikes Bio
CEO/Founder, The Groove Lounge Network, 2015
CEO/Founder, Bubble Parties Hollywood, 2015
CEO/Founder, Kingdom Karaoke Entertainment, 2002
CEO/Founder, Bubble Parties Texas, 2012
CEO/Founder, Glow Parties Texas 2014
CEO/Founder, Steppin' Out Entertainment, 1988
CEO/Founder, Steppin' Out Karaoke, 2001
CEO/Founder/Producer of Adonai Films, 2003
Member of The School Dance Network 2016
Member of The Traveling DJ's Network, 2016
Latin Music Panel Speaker Seminar 1997 Mobile Beat DJ Expo (Las Vegas)
Latin Music Panel Speaker Seminar 1998 Mobile Beat DJ Expo (Las Vegas) Seminar (More Than The Macarena"
DJ Entertainer, All Star Performer Tropicana Hotel Opening Party 1998 Mobile Beat Expo (Las Vegas)
Featured DJ Showcase Speaker/Entertainer 1997 GHAMMA Expo (Houston)
Featured DJ Showcase Speaker/Entertainer 1999 GHAMMA Expo (Houston)
Featured DJ Showcase Line Dance Instructor, 1999 Mobile Beat Conference Show (Las Vegas)
Featured Speaker GHAMMA Expo, 2000 Latin Music Panel (Houston)
Voted 1998 DJ Member of the Year by The Greater Houston Area Mobile Music Association
Voted 1998 DJ Marketing Presentation, Promo Materials, Business Card of the Year by The GHAMMA Association
Vice President of GHAMMA (Greater Houston Area Mobile Music Association) from 2000-2002
Writer/Editor to the Jalapeno Beat (Latin Mobile DJ Newsletter) 1997-1999
Member of The HSA (Houston Stunt Association) 1990-2003
Member of SAG (The Screen Actors Guild) 1982 to Present
Member of AFTRA (American Film & Television of Recording Artists) 1988 to Present
Member of N.A.M.E.(National Association of Mobile Entertainers)
Mobile DJ for Radio Parties 96.5 Mixx, Houston Texas from 2012 - 2015
Board Member of Cross Mixx, Christian DJ Association from 2004 –2010
DJ TRAINING:
1980-1984 Dial A Disco Entertainment / Greenlee Brittenum
1988-2000 Good Time Music Machine, Oldies 94.5 Radio, Bob Gafner
1996 Mobile Beat DJ Show Conference (Balley's Hotel) Workshops & Seminars
1997 Mobile Beat DJ Show Conference (Crown Plaza Hotel, Las Vegas) Workshops & Seminars
1998 Mobile Beat DJ Show Conference (Tropicana Hotel, Las Vegas) Workshops & Seminars
1999 Mobile Beat DJ Show Conference (Tropicana, Las Vegas) Workshops & Seminars
2000 GHAMMA DJ Expo Conference (Humble Civic Center, Houston Texas) Workshops & Seminars
2000 Mobile Beat DJ Show Conference (Tropicana, Las Vegas) Workshops & Seminars
2001 Mobile Beat DJ Show Conference (Tropicana, Las Vegas) Workshops & Seminars
2002 Mobile Beat DJ Show Conference (Tropicana, Las Vegas) Workshops & Seminars
2003 Mobile Beat DJ Show Conference (Tropicana, Las Vegas) Workshops & Seminars
2004 Mobile Beat DJ Show Conference (Tropicana, Las Vegas) Workshops & Seminars
2005 Mobile Beat DJ Show Conference (Stardust Hotel, Las Vegas) Workshops & Seminars
2006 Mobile Beat DJ Show Conference (Stardust Hotel, Las Vegas) Workshops & Seminars
2007 Mobile Beat DJ Show Conference (Southpoint Hotel, Las Vegas) Workshops & Seminars
2008 Mobile Beat DJ Show Conference (Riveria Hotel, Las Vegas) Workshops & Seminars
2009 Mobile Beat DJ Show Conference (Riveria Hotel, Las Vegas) Workshops & Seminars
2010 Mobile Beat DJ Show Conference (Riveria Hotel, Las Vegas) Workshops & Seminars
2011 Mobile Beat DJ Show Conference (Riveria Hotel, Las Vegas) Workshops & Seminars
2012 Mobile Beat DJ Show Conference (Riveria Hotel, Las Vegas) Workshops & Seminars
2013 Mobile Beat DJ Show Conference (Riveria Hotel, Las Vegas) Workshops & Seminars
2013 ADJA DJ Conference Show (Las Vegas Convention Center, Las Vegas) Worshops & Seminars
2014 Mobile Beat DJ Show Conference (Riveria Hotel, Las Vegas) Workshops & Seminars
2014 ADJA DJ Conference Show (Las Vegas Convention Center, Las Vegas) Worshops & Seminars
2015 Mobile Beat DJ Show Conference (Riveria Hotel, Las Vegas) Workshops & Seminars
2015 ADJA DJ Conference Show (Planet Hollywood, Las Vegas) Worshops & Seminars
2016 Mobile Beat DJ Show Conference (Tropicana Hotel, Las Vegas) Workshops & Seminars